Episode IV – CITY TALES
International Street Art Festival 2018
An art & culture project for the city of Giessen, Hesse, Germany

Episode IV – 2018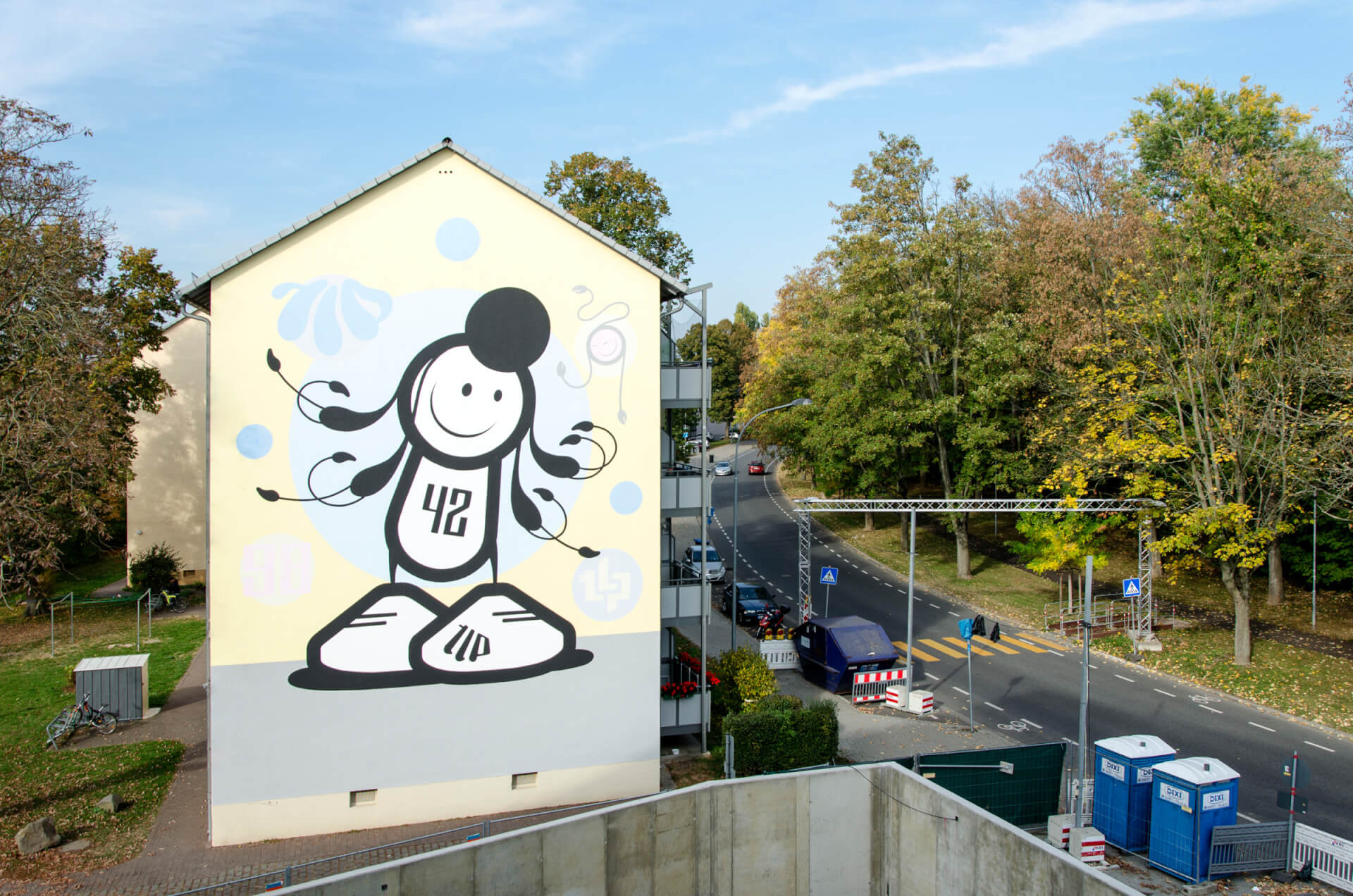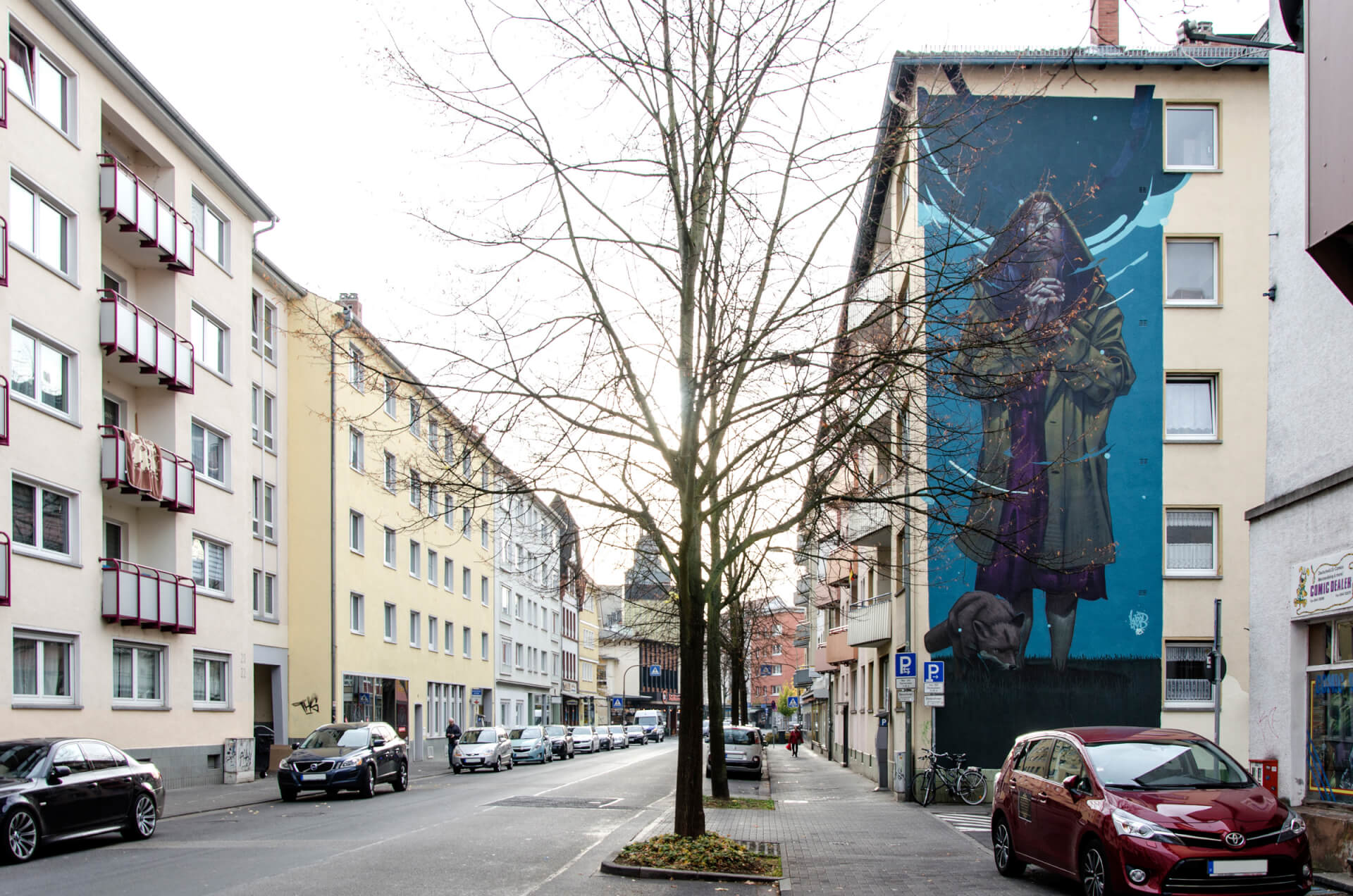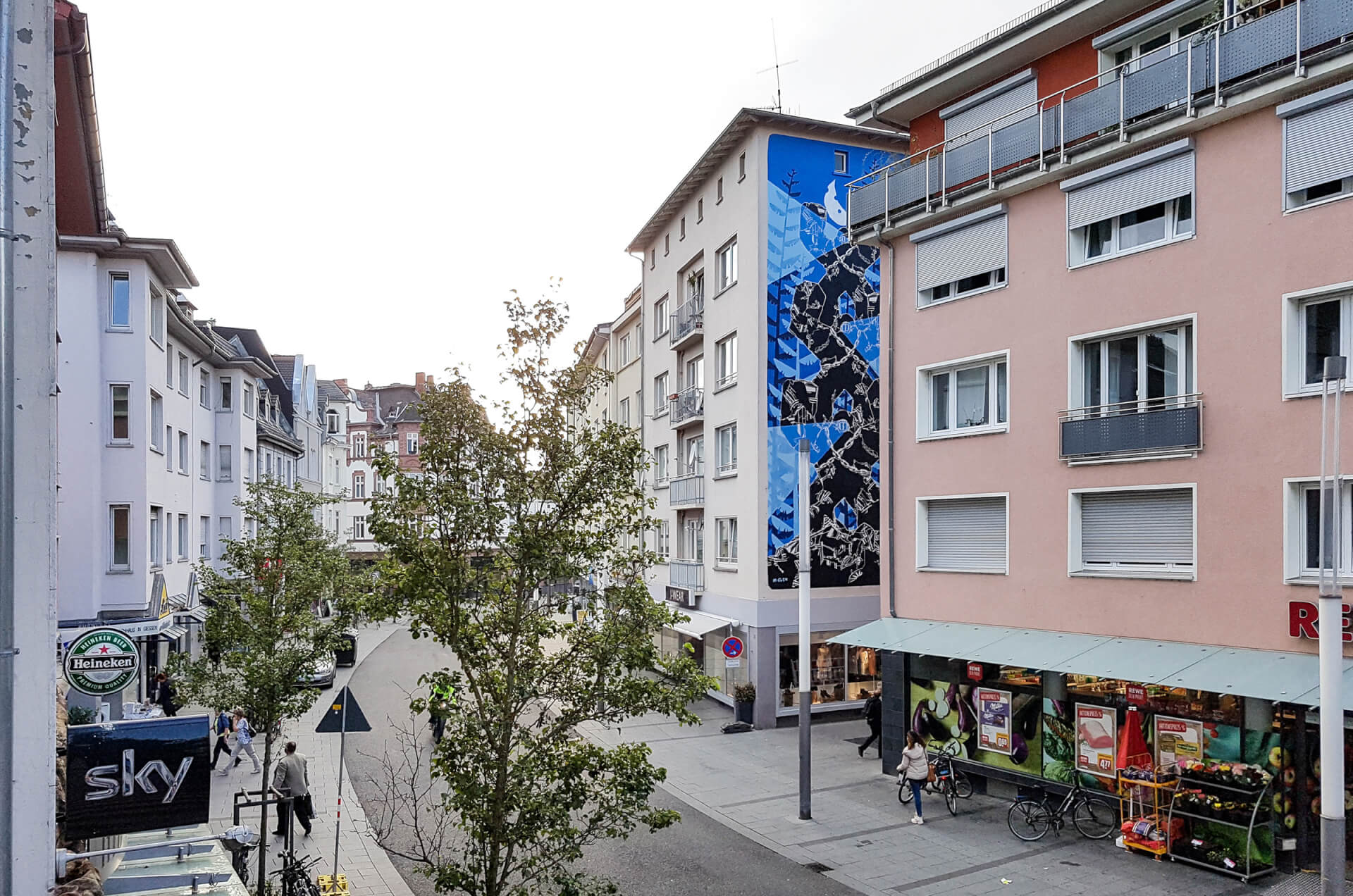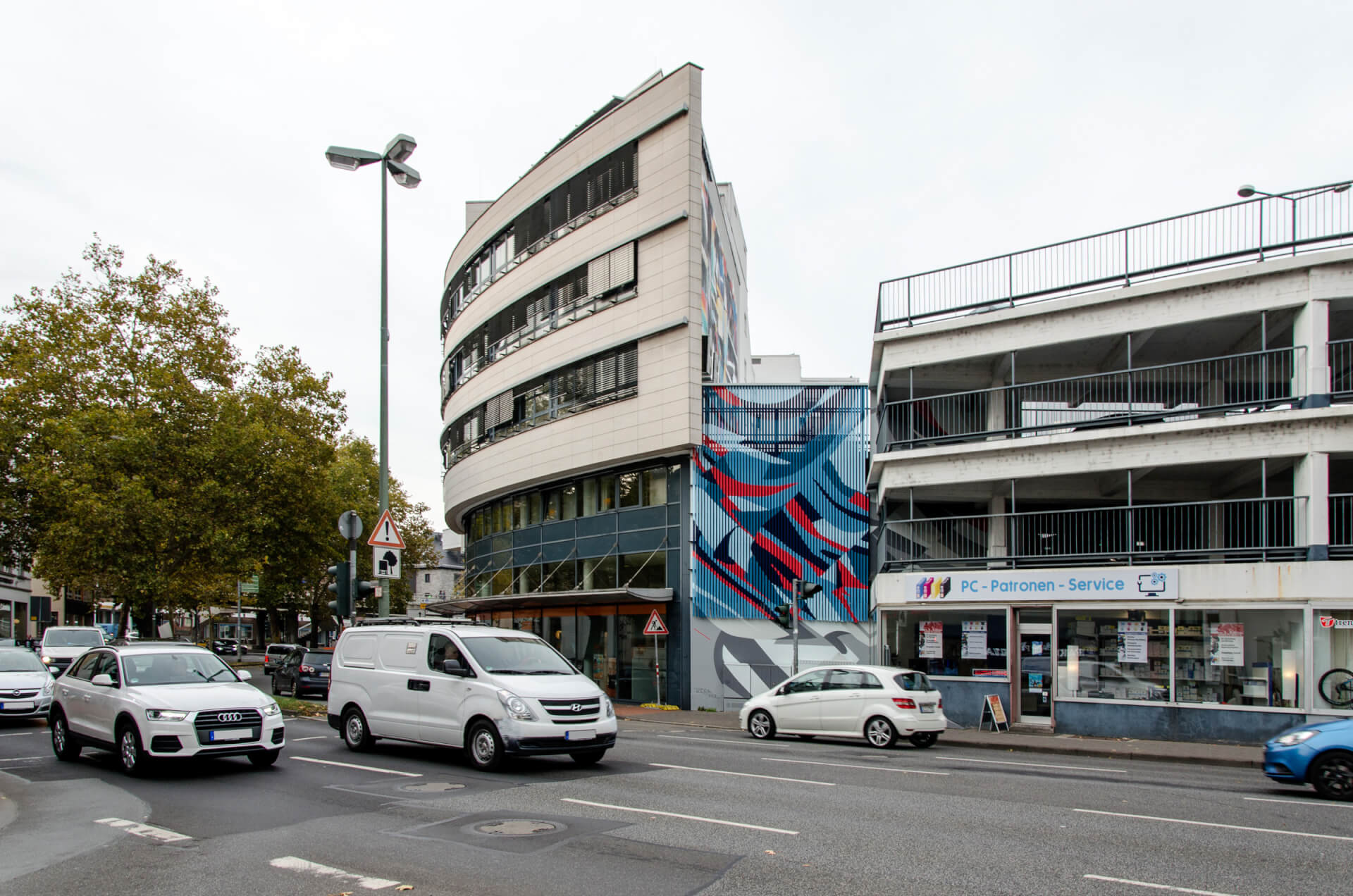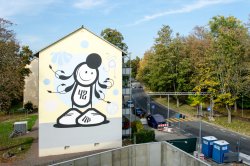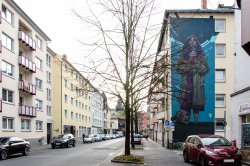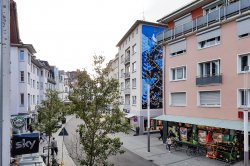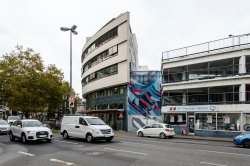 Review
(currently google translation)
CITY TALES tells the stories of the city Gießen. Art on the facades and walls should open people's eyes to the beautiful in your city.
That from the "down to the center" the inner city offensive of the Hessian Ministry for environment and
CITY TALES is another episode of Gießen's RIVER TALES festival. The RIVER TALES Festival has been presenting top class urban and street art in the rural region of Central Hesse since 2012. According to the festival slogan "The current of Life Through Art" – the flow of life through art is to spread in the city. Art should bring forgotten places back to life and give people joy. Through art we also want to draw attention to our waters as a lifeline, which is the actual mission of the RIVER VALLEY – The River of Life – our water.
We want to show that there is a lot to discover and to experience in the city. That it pays to stay in the city as a visitor and to stay in it as a citizen for a change and fun. The citizens and visitors are to be inspired for details and stories of their city. They should get to know new old places to feel good, to relax, to meet, to enjoy and for activities.
In 2017 and 2018, more than two dozen walls and facades in Gießen's urban area were and are being designed by international façade artists and renowned street artists. Parallel to this, there will be a varied festival program for citizens, visitors and interested parties.
The festival in 2018 will again be supported by "Ab in die Mitte" of the state of Hessen, the city of Gießen as well as numerous corporate sponsors and private supporters.
Standorte
Stinkfish aus Columbien: Kinocenter, Bahnhofstraße
M-City aus Stettin und Danzig, Polen: Marktstraße 8 Ecke Löbershof
Kera1 aus Berlin: Wieseck-Fußweg, Zugang über Alicenstraße zur Bleichstraße
Kera1 aus Berlin: Contiparkhaus am Selterstor
Mr. Woodland aus München: Walltorstr. 25
The London Police aus Amsterdam, Holland: Ringalle 42
CITY TALES – a RIVER TALES episode
translation soon
1. Großformatige Wandgestaltungen, Installationen und kleine Street Art durch internationale Street Artists
2. Skateboard Contest – Skaten mitten in der Innnenstadt
In Kooperation mit
MOSAIK Skateboard Shop Gießen
"Department of Skateboarding Giessen" (Skateboardverein Giessen e.V.)
Skate Lounge
Ort: Johannette-Lein-Platz, Gießen
3. Ein Flussareal mitten in der Stadt
Zwischen dem Seltersweg und der Katharinengasse flaniert eine Springbrunneninstallation die Löwengasse. Dieser Bereich wird in eine Uferlandschaft verwandelt. Hier sollen Stadtbesucher die Möglichkeit bekommen auf Liegestühlen und Wohlfühlklima zu entspannen, Bücher zu lesen, sich zu unterhalten oder die Stadt genießen.
Das Event findet in Kooperation mit der Strandbar und dem Seltersweg BID statt.
4. Achtsam Leben im Alltag: Ein MBSR-Workshop mit Nils Schmalenbach
Einführung in die Kunst des Achtsamen Lebens mit Nils Schmalenbach (MBSR Dozent, Stressbewältigung Gießen). Wir alle können lernen achtsamer zu Leben und auch in kleinen Momenten Ruhe zu genießen. Meditation und Übungen für mehr Körperbewusstsein können hier helfen kreativ mit stressigen Situationen umzugehen. Zum Wohlfühlen ist ein offener Workshop mit Übungen und wissenschaftlichen Hintergrundinformationen für alle Interessierten geplant. Ein empfehlenswertes Erlebnis. Ankommen bei sich, im Hier und Jetzt.
5. Trommelworkshop an der Lahn
Ein Trommelworkshop mit der Kulturgruppe "Die Welt" der AWO direkt an der Lahn. Zum Erlernen von Handtrommeln und einem kulturellen Austausch. Geplant ist ein Areal beim Gegenüber. Getränke können über das Who Killed the Pig bestellt werden.
6. Culture Jam: Ein kultureller Abend mit Breakdance, Live-Musik und vielem mehr
7. Die besondere Stadtführung: Street Art trifft auf Stadtgeschichte
Zwischen Street Art und Fassadenkunst Geschichten von alteingesessenen Bürgern (den Schlammbeisern) zur Stadtgesch6ichte erfahren. Wer wohnte mal hier? Was befand sich in diesem Haus? Warum hat diese Straße ihren Namen oder was gibt es hier und dort vielleicht zu erleben. Ein Rundgang zwischen Kunst und Stadtgeschichte
Einige Stadtführungen wurden bereits durchgeführt und weitere sind geplant. Aber diese besondere Führung zwischen Street Art und Stadtgeschichte in einer Kooperation von Gießen Tourist und dem RIVER TALES festival sollten Sie sich nicht entgehen lassen.
8. Kino-Sondervorstellungen im Kinopolis Gießen
"Banksy. Exit through the Gift Shop"
Ein Muss für jeden Kunstliebhaber und jene die Hinter die Kulissen der internationalen Street Art Bewegung schauen wollen.
witzig – unterhaltsam – Zeitgeschichte
"Beat Street"
Ein inspirierender Film zu den Anfängen der Hip Hop und Graffiti Bewegung in New York der 80er mit beeindruckenden Breakdance Battles.