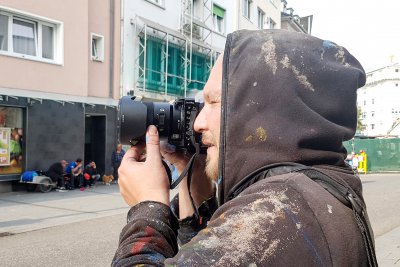 born 1978, lives in Gdańsk and works in Szczecin, PL
Professor for Painting and New Media
Mariusz Waras, also known as M-City, is a street artist, graphic designer, illustrator and habilitated professor at the Faculty of Painting and New Media at the Academy of Art in Szczecin. In 2004 he graduated from the Faculty of Graphic Design at the Academy of Fine Arts in Gdańsk. From 2008 to 2014, he worked as a teaching assistant in the studio of Prof. Jerzy Ostrogórskis and obtained his PhD in 2013. Since 2015, he is director of the Street Art Studio of the Faculty of Painting and New Media at the Art Academy in Szczecin.
M-City is fascinated by cities and their urban sides. This is clearly evident in his works, which include both smaller posters and large-format murals covering several hundred square meters. His M-City project includes hundreds of murals. His works have been shown in numerous group and solo exhibitions in Poland and abroad. He is the chief curator of the 238x504 Hoarding Gallery in Gdynia and one of the three curators of the street art exhibition series in Poland.