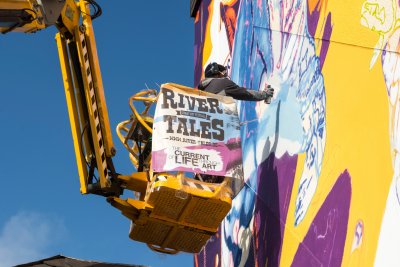 established 1998, all members are born 1980
hits the world in URBAN GLAMOUR and AMBIVALENCE
curator and initiator of the RIVER TALES festival
follow the artist:
3Steps (est. 1998) is the collective of the twins Kai H. and Uwe H. Krieger and Joachim Pitt (all born in 1980) from Giessen. The award-winning collective pick the term AMBIVALENCE out as its central theme, transforms the world into URBAN GLAMOUR, paints in NEO POP, runs a small creative agency and is the initiator and curator of the urban street art festival RIVER TALES. The three friends live and work in the university town Giessen, Hesse, Germany.
Milestones of the collective are the founding of their studio in spring 2012, the award of 'Kultur- und Kreativpilot Deutschland' by the Federal Repuplic of Germany in 2014, the publication of the first monograph 'MILVUS COUNTY' in spring 2017. In the same year they were presented in an One-Artist-Soloshow with the 2CforArtGallery at the art KARLSRUHE international art fair. Mentionable is also the 'THE SENSE OF THINGS' solo exhibition at the Kunsthalle Kunststation Kleinsassen with two large-scale mural artworks as part of an artist-in-residence program in summer and fall 2017.