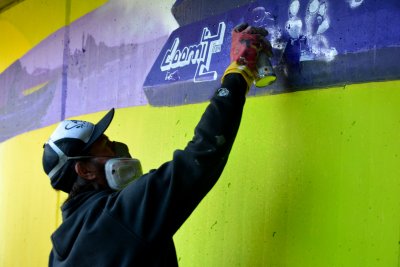 born in Celle
lives and works in Munich
graffiti-pioneer in Europe, one of the most famous and important graffiti artists worldwide
In 1983 Mathias Koehler started his career in Buchloe by painting the water tower. After his first law suit in 1984 he started using his pseudonym Loomit. In 1993 he painted  the private bathroom of munich's mayor Christian Ude. In 1995 he learned tattooing by the graffiti artist Seen in the Bronx. Moreover, he worked on the highest graffiti of the world (organization by L. Knode, künstlerische Leitung: DAIM, Darco) in Bergedorf-Lohbrügge. He organized his first solo-show in 1996 in Darmstadt. In 2002 Loomit recieved the Schwabinger art prize by Christian Ude. He works worldwide, for example in: Amsterdam, Paris, Los Angeles, Rio de Janeiro, Shanghai, etc. Loomit prefers painting at places where grafiti art is still unknown and unfamiliar. In 2012 he was exhibiting with his works for "Art in the Streets" at the MOCA in L.A. .