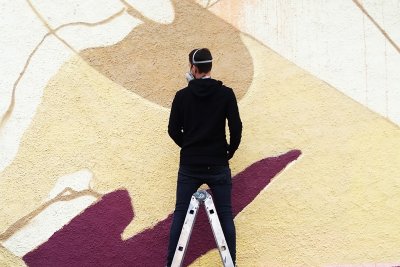 born in 1982
lives and works in the Netherlands
wanted to become a professional soccer player
Does is a talented graffiti artist from the Netherlands, born in 1982. Though he has been active in the graffiti scene since 1997, soccer was his first love. When an injury ended his athletic pursuits at the age of 28, DOES took it as an opportunity to focus solely on his art. His artwork takes root in graffiti art and lettering is his primary love. Letters are more than just symbols to DOES. He maintains that handwritings show elements of their owners' emotional landscapes, putting personality traits unconsciously on display. Using letters as foundation, DOES continues to elevate the form of the humble letter to new heights. Through an explosion of color and shape, text assumes narrative. An artist that embraces the viewers imagination. Today his work is featured in exhibitions and collections across the globe.