Capture the Street

a RIVER TALES street art exhibition
From the 13th of September till the 20th of October 2019 the Oberhessische Museum presents together with the RIVER TALES street art festival the first Hessian street art exhibition in a museum.
The exhibition gives a comprehensive insight into the wide spectrum of street art and graffiti art. In addition to well-known participants of RIVER TALES in recent years, other renowned artists and international upcoming artits will be shown. The works range from figurative to graphic and abstract works, from black and white to colorful neo-pop, from stencil technique to screen printing and installation. The exhibition highlights both the local and international historical development of this young art generation. Over 50 works by 30 artists will be on display.
The curators, the twins Uwe H. and Kai H. Krieger from the 3Steps art collective, were able to win 30 artists from four continents for this unique exhibition. On display will be works by street art and graffiti pioneers such as BLADE or WK interact from New York as well as bodies of work by the artist Faith from South Africa and the two Australian artists Rone and Fintan Magee. In addition pioneers of the young German art movement such as Can2 or Loomit and local representatives will be presented. The range of participating artists spans over four generations, from oldschool to current trends. Three installation works will be performed by the artists WK interact, C215 and Giessen's street art collective 3Steps.
As special highlights for the opening the German break dance formation Funky Harlekinz will host a show and New York based artist WK interact will be the present. He will also paint two large facades for the RIVER TALES festival 2019.
Participating artists:
3Steps, Gießen | Ali Mojahedi, Gießen | Blade – Steve Ogburn, New York USA | C215 – Christian Guémy, Paris Frankreich | Can2 – Fedor Wildhardt, Mainz | Charlie Anderson, Glasgow Schottland | Chinny Bond, Amsterdam Niederlande | Christian Awe, Berlin | Christian Böhmer, Köln/Düsseldorf | Christian Hundertmark, München | Der Bananensprayer – Thomas Baumgärtel, Köln | Die All Tschuggs, Gießen | Does, Geleen Niederlande | Dome – Christian Krämer, Karlsruhe |Etnik, Turin Italien | Faith XLVII, Südafrika / L.A. USA | Fintan Magee, New South Wales Australien | Flying Förtress, Hamburg | Jan Kalab, Prag Tschechien | Johannes Mundinger, Berlin | Kera1, Berlin | Layercake, München | Loomit – Mathias Köhler, München | Patrick Hartl, München | Rone, Collingwood Australien | SatOne, München | Stinkfish, Bogota Columbien | The London Police, Amsterdam Niederlande | WK interact, New York City | Zest, Montpellier Frankreich
RIVER TALES 2019 | Program
MaGic Tales – Marburg and Gießen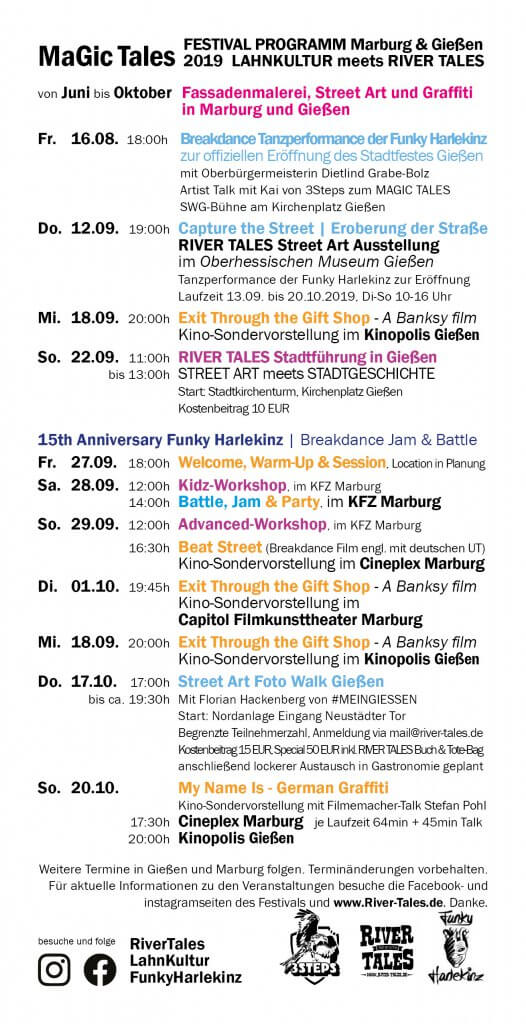 Instagram IMPRESSIONS
follow RIVER TALES auf Instagram