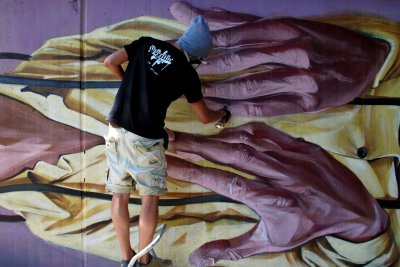 Macs & Etnik
Macs (Antonello Piccinino): lives and works in Lanciano
Etnik (Alessandro Battisti): born in Stockholm (Sweden), lives and works in the tuscany between Pisa und Florence
MACS
His first graffito with the name ''Macs'' was in the early 90s. He is one of the most famous and important graffiti artists, especially in characters, in Italy and Europe.
Over the years, many murals were made and his artworks were shown in numerous national and international graffiti and street art exhibitions. 
Regardless of the technique, from pencil to acrylic paint, watercolors, digital design and spray cans, Macs has an unique style: his comic-like drawings, the study of graffiti fonts, photorealism and sense for pictorial motives leads clear messages, from the walls of the city to digital media and pictures on canvas. 
His characters travel around the world, from Italy to the United States, from Brazil to Germany. They always have something to tell, arising in response to current events, reflecting your thoughts. Sometimes dreamy or melancholy, humorous or sarcastic, telling stories or fables, snapshots without filters or cencorship, describing everything he is experiencing and what is surroundin him.  And looking speechless at his murals is the only task for us.
Etnik
As a designer in each and every way/ as Painter/as Artist, he started as a graffiti artist in the Tuscany in the early 90's, and later in all of Italy, to design murals.
His works range from large sized murals with developed concepts over to artworks on canvas and sculptures with his lettering – The key element to his works which he has been developing and evolving for over 20 years.
It has always been really important to him to study and understand the "Wild-Style", a really complex world as a lifestyle as well as graphically. His joy in life makes him take new paths and try to implement new ideas and concepts into his own style.
20 years of painting in suburban cities, searching new places, trying to get a different view of the City, lead him to new thoughts and therefore became the guiding theme of his graphic designs.
Urban conurbations and geometric masses cross violently into opposite areas and opinions that focus on displaying cement as constraining and dangerous in reference to the balance of our everyday life. A natural view that is not representing nature but its enemy.
His, due to artistic phenomenon's of the street, continuously evolving character leads him to unexpected and unordinary experiences, like experiments, workshops and classes, the collaboration with the public and in private as well as participation in exhibitions of all sorts.